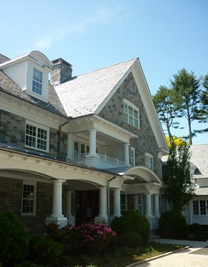 The Salamone Group has developed a successful team approach through which we deliver our design expertise. We produce innovative ideas along with rigorous engineering analysis to provide the best possible solutions for our Clients.
Our practice is diversified both in size and type of project. We engineer systems for small buildings such as restaurants, churches, town halls, libraries and residences as well as for larger facilities including high rise apartments, corporate office buildings and industrial plants and laboratories.
Whether a building is new or old, we stress energy conservation and value engineering as basic tenets in our work. We value the importance of our environment and understand our responsibilities towards it. Our office has designed many innovative energy conserving systems including renewable resource systems for award-winning residential and commercial buildings. Natural lighting, heat recovery, solar and geothermal energy, super insulation and thermal mass studies are among the approaches we have used to dramatically reduce building energy use and to better our communities.
Our firm understands that active communication with all parties involved in the project design and construction process is a key to a successful project. We take special care in asking important questions up front in the design process, and listening carefully to responses from each party. We then design and deliver efficient, safe, productive and comfortable environments to go above and beyond our Client's expectations.